WWE RoadBlock Results and Quick Hits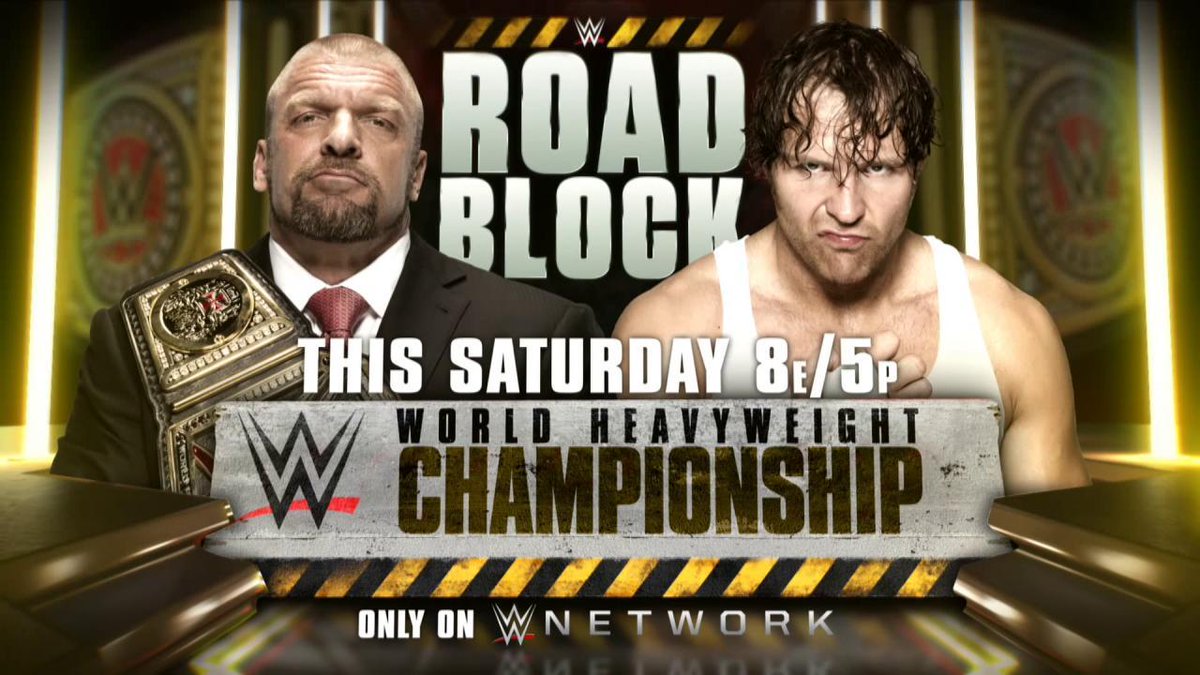 The New Day Defeated Wade Barrett and Sheamus To Retain the Tag Team Titles
-Basic match here. Barrett caught Big E with a kick to the face, but Xaiver Woods ended up distracting the ref. Sheamus chased Woods around until Kofi caught Sheamus with a face plant on the floor. Big E then hit the Big Ending on Barrett to pick up the win. I'm assuming the result is to set up a rematch at Wrestlemania. It was weird to see the New Day use heel tactics to come up with the win.
Chris Jericho Defeated Jack Swagger
-Jericho ran down Canada in a promo beforehand. He got cheered when his music hit so he needed to do something to get booed, especially since he was facing Jack Swagger. He called Toronto the anus of Canada.
-The problem is, Jack Swagger is probably the least over face that you have. No one was getting behind him.
-Swagger got his normal offense in until he eventually tapped to the Walls of Jericho. Uneventful match.
-I'm surprised Swagger actually still has a job at this point.
The Revival (Dash and Dawson) Defeated Enzo and Cass (w/Carmella) to Retain the NXT Tag Team Titles
-I'm still not sure about Enzo/Cass/Carmella. I think their act could get over somewhat similar to the New Age Outlaws. But it was also a different time back then. Would the crowd get tired of their act after awhile?
-The WWE is sooo trying to turn Dawson and Dash into the next Brain Busters. The problem is, no one will ever be like Arn Anderson or Tully Blanchard.
-Nice spot where Enzo is getting worked over and tries to make the tag from running across the ring after being on the outside. But Dawson takes him out with a knee chop and Enzo flies to the outside.
-I bet Vince is watching this right now and immediately fell in love with Big Cass.
-Enzo and Cass go for the Rocket Launcher, but Dawson pulls Enzo off the apron. Dawson uses Carmella as a "roadblock," but Carmella slaps him. Big Cass eats the finisher of the Revival on the outside.
-Enzo hits a DDT off the top on Dash and rolls up Dawson for two. But Dash and Dawson come back and hit their finisher for the win. Best match of the night so far. No surprise since it is from NXT.
Charlotte Defeated Natalya to Retain the Divas Championship
-Originally this match was a non-Title match, but Natalya talked her way into one earlier tonight. She dedicated the match to her uncle Bret.
-I still think Natalya is overrated as a wrestler. She's good, but not as good as people make her out to be. And she cries too much.
-Similar to Swagger, the crowd just isn't into Nattie as a face. The Canada thing just isn't a factor. She hasn't been treated as a top contender in forever.
-Charlotte ends up winning after escaping a Sharpshooter and scoring the pinfall win. Meh.
Brock Lesnar Defeated Bray Wyatt and Luke Harper
-Apparently this is now 2-on-1 because Bray Wyatt says so. OK?
-The look on Bray Wyatt's face while Brock Lesnar was coming out was the look of "Well, I guess this is the closest I'll ever get to the main event again."
-Harper eats a suplex and goes to the outside. But Bray distracts Brock and Harper hits a dive. He gets a couple kicks in and then his clothesline but only gets a two.
-Bray continues to stand on the outside as Harper eats more suplexes. Lesnar hits the F5 for the win.
-You know, I could go on a long rant right now. But that was fucking stupid. Bray looked like an idiot and a scared one at that. They better not go to Bray/Brock again down the line.
Sami Zayn Defeated Stardust
-Listen to that pop for Sami Zayn. But Vince doesn't think NXT Stars can draw.
-Once again, Stardust is DOMINATING this match. Sami got some offense in during the first few minutes and hasn't since. And the crowd is dead.
-Stardust goes for a Superplex but Zayn pushes him off. But Stardust comes right back and hits it. Still no offense for Zayn.
-Zayn finally gets some offense in and wins. Are they trying to put the crowd asleep before the main event?
Triple H Defeated Dean Ambrose To Retain The WWE World Heavyweight Championship
-See Toronto, this is why you can't have nice things. Chanting CM Punk during this match? Give me a break.
-Ambrose with the crotch chop and then Breeze lay down on the top rope.
-There's dueling chants going on and I can't figure out why. People like HHH as Champ in 2016?
-Ambrose just spent a few minutes working over the leg of Triple H. So naturally, HHH shoves Ambrose into the steps with his feet and doesn't sell the leg getting up.
-Triple H begins to dominate but Ambrose starts a comeback. He hits his Lariot clothesline but HHH comes back with one of his own.
-Ambrose applies the Figure Four. The announcers are selling the fact that Ambrose worked over Triple H's leg better than HHH.
-After HHH escapes a Sharpshooter, Ambrose hits Dirty Deeds. He gets 3, but the ref immediately says Ambrose's feet were under the ropes. HHH goes for a roll up, with his feet on the ropes in pretty plain sight of the ref, but only gets two.
-Ambrose sets HHH up on the announce table, but HHH moves as Ambrose jumps off the barricade and goes through the table.
-Ambrose beats the ten count in, but HHH immediately hits him with the Pedigree for the win. The match started slow, but picked up in the second half. I still don't think HHH sold the leg enough and looked blown up by the end of the match. Good luck trying to get Roman Reigns and Triple H to put on a match as good as that. The event was meh overall. Nothing but a glorified house show.
Until Next Time,
Justin C
Follow Me On Twitter @JCWonka